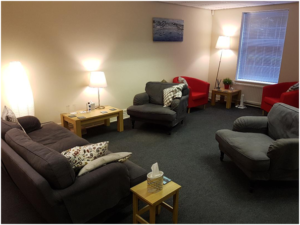 As of June 4th I have been working from my office, offering face to face as well as zoom and telephone counselling. 
One key reason for this is the need to provide confidentiality with zoom from home. I can no longer assure that, as with returning family members, there are too many of us in rooms meaning it simply doesn't work. I've gone through this decision with my supervisors, membership guidelines and assessment of my office. It's been decided that it's now Ok for me to return to the office to work from.
Some clients will wish to shield and continue to use zoom. Others may wish to return to/begin with face to face counselling . Overall, the footfall into the office as we speak, will remain low.
I can assure all visitors that I am extensively cleaning surfaces, washing cups & mugs and making sure that all guidelines are met to control the spread of Covid-19.  Also, I'm making sure that all the chairs, sofa and armchairs are at a safe (2m) distance apart.
Everyone's right to autonomy and their wellbeing is, as always, respected and promoted. As well asfair to all.
If you have any questions, I am always happy to answer. Please email me through the web page or call on 07881532524
I am happy to answer and clarify any questions and or concerns in the current environment we find ourselves in. And on that note, one point to consider and clarify would be your thoughts and views on track and trace in regards to the implications that may have with autonomy and confidentiality.