Within porn addiction therapy and sex addiction therapy in general, I sometimes get asked: do I need to know the types of porn, the genres of porn watched?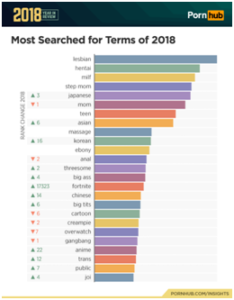 I wish there was a simple answer to provide.  Because sometimes it's essential to know and how it relates to a porn addiction fantasy etc. and at other times it's just not relevant. It is why an appraisal is key and essential. What I do, is keep reading the stats from Pornhub, which they release each year and look out for articles, of which there is one in this blog.
Every year Porn Hub release data on searches conducted on its site. In 2018 there was something that struck me – this slide on ranking changes for most searched terms. There was fortnight at a rise of 17323 places!
Fortnite as in the computer game!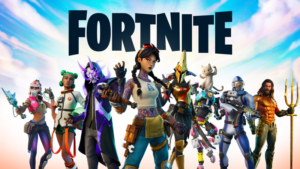 But there's also something about just how much data Porn hub have, which they do share. How many genres of porn are there? Well, over 17,000 for sure. And the data keeps on coming.
As somebody working in porn addiction therapy I was fascinated when, in the same year, there was a comment made in a US political debate where one opponent accused the other of being into Bigfoot porn! So after a quick Pornhub look up I found to my surprise, not only has it always existed on their platform, but the reported comment initiated a spike in searches, registering on their software.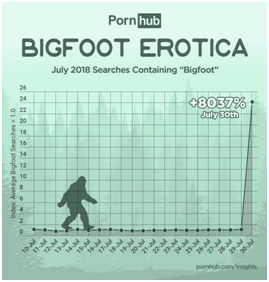 Now, this is about a Kink, not bigfoot obviously (you can actually read a Rolling Stone article on bigfoot erotica here if you'd like to know more…)  and that's the wonderment of porn. There is always something out there for someone. Though at times, there are people who come to therapy and wonder about their sexual needs, kink, desires and/or lust, and question – has it been "hijacked" by too much porn? Are there just too many genres? There is after all no ceiling on the porn that can be consumed.
So, for some it may emerge that there is a problem ranging from sexual dysfunction to compulsivity and/or addiction and they then come to seek help. At times it isn't always easy to talk about sexual preferences i.e.  a particular kink, or paraphilia. Some doubt the therapist will really understand. The answer here, for the therapist, is continuous professional development, ongoing exploration on kink, awareness and research on genre's etc. The aim being to break the ice and allows a conversation to flow which ultimately will help someone open up on a subject which really matters to them.
This is one of those articles I mentioned above and is a great source of information:
The Art of Sissification: Is 'Sissy' A New Sexual Orientation?
https://thoughtcatalog.com/jeremy-london/2018/03/the-art-of-sissification-is-sissy-a-new-sexual-orientation/
"…the practice of dressing a submissive partner as a woman and/or encouraging or training a submissive partner to act in a feminine or exaggeratedly feminine ("hyperfeminine") manner. If assigned male at birth, the submissive partner may be called a "sissy." Feminization is usually achieved via cross-dressing, where the male is dressed in female attire, ranging from just wearing female undergarments to being fully dressed in very feminine attire, including make-up, hair dress and nail polish. Some males take on tasks, behaviours and roles that are overtly feminine, and adopt female mannerisms and postures in tasks such as sitting, walking, and acting in a feminine manner."
I never pretend to know all the genres, but also, never underestimate the importance of what is unique for someone and what they bring to therapy to explore and determine why it may be causing issues for them. If you, or someone you know, think you may be a sex addict, please click here to complete this sex addiction diagnostic form.